Hard Candy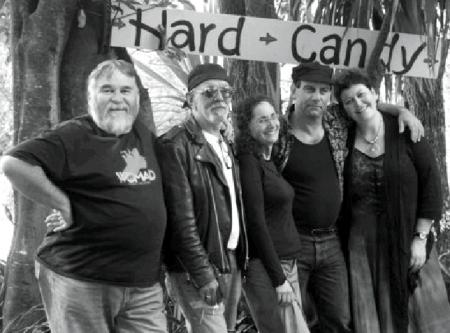 This hot little outfit plays a searing blend of country rock and blues with elements of boogie and swing in the mix. It's a big sound with a whole lot of punch that'l take you up country, down the river and back home again.
Bob Cooper-Grundy comes your way with a trunk load of string power, gator skin boots and more hurtin' highway songs than he can sing in one session. Stand back – this American finger picking blues exponent is hot. A real deal blues man whose fingers do the talking on guitar, slide guitar, mandolin and banjo.
Karen Clarke's gutsy, smoky vocals and driving rhythm guitar make her a compelling front gal. With an onstage presence that critics describe as anything from raw to sassy, she connects with her audience through a strong, emotive performance style. This mama can sing.
Multi-instrumentalist Kate Marshall brings exceptional interpretive magic and finesse to the front line. Kate fires up the mix with commanding leads on violin, flute and accordion. She trained in classical piano at Auckland University and the Royal Northern College of Music in Manchester. All that, and she bakes!
On drums is Wayne Morris who joins the band from home base in Taranaki. According to his mother he's been a drummer since her third trimester of pregnancy and has been hitting things for as long as he can remember. Mr Rhythm!
Bassist Warwick Hill is the energetic guy driving hard way down deep. Bringing rock sensibilities, honed in Wellington's eighties gig scene, this boy cuts it up. Now based in Hawke's Bay, Warwick has a number of collaborations that range from folk to funk. No cliches here.

Like us on Facebook